Glass it up: Zaca Mesa's 2016 Clydesdale pays homage to the founding family's history
Every once in a while I fall back in love with a good syrah.
As much as we like to taste and experiment with wines, sipping recently released blends and getting talked into bottles of new brands and varieties we've never had before, eventually we all become creatures of wine habit. Some people settle into a hearty pinot noir, and others just want a safe rosé without complications.
For years, I was a syrah disciple. I never drank anything but, and I fancied myself a bit of a snob (despite having to resort to the aisles of a local 7-Eleven for my selections during college). I later moved on to crisper whites with more acidity or fruitier wines that nailed my sugar craving to a T.
Recently, the winemaking team at Zaca Mesa Winery and Vineyard offered me a unique chance to try a new wine that just so happened to be a syrah, which is their speciality. I was intrigued by the way the team had approached the wine, using multiple blocks to create a pastiche of their syrah style and philosophy. I wanted to learn more.

But first I wondered, what do winemakers such as Kristin Bryden—who has been at Zaca Mesa for eight years—feel makes a truly great syrah?

"I like a balance between strength and elegance," she said. "A core of black and red fruits mixed in with some earth and spice and structure as well. Part of the beauty of syrah is the structure of the wine. If you can get all that into one glass, you're doing a good job."

That's what Zaca Mesa's winemaking team hopes to do with one of their latest releases, a 2016 Clydesdale syrah that represents a tapestry of the vineyard's best elements. Bryden said they started the process of creating the wine as a tribute to John Cushman and his family, who helped found the vineyard.

Cushman and a group of friends purchased the land that would become Zaca Mesa in 1972, making it only the third winery to exist at that time in Santa Barbara County. They tinkered for a while with different grapes to see what would work best in their land, but it wasn't until 1978 when they planted their first block of syrah (known as the Black Bear Block) that the vineyard struck gold.

Clydesdale, a historic name of the Cushman family that traces back generations, was born out of an interest in celebrating the family's legacy.

"Over half of our vineyard is syrah," said Bryden. "It's our flagship varietal. So it's a great tribute to them and the commitment that they've had to Rhone varietals, especially in the Santa Ynez Valley."

There are a lot of good reasons why Zaca Mesa thrived as a syrah maker. The typical profile of a syrah is a medium acidity. Because of where Zaca Mesa is situated, the high elevations of the mesas are about 1,500 feet above sea level. That allows the grapes (thanks to the cool breezes from the Pacific) to mature and retain their all important acidity.

For this particular wine, harvest took place at the end of August and beginning of September 2016.

"It was a great vintage," Bryden said. "This wine is made of multiple blocks. With syrah, we have nine different clones of syrah on the property—different vine age, different root stalks—so they tend to ripen at different stages. That's where the range comes from."

The syrah is from five different blocks (along with a few sub blocks) from a south facing hillside of the vineyard. With all the choices and all of the possibilities, it's hard to imagine how winemakers such as Bryden begin to craft the recipes for blends of one type of grape born in different areas of their vineyard.

"I think you imagine your wine style," she said. "You determine specifically your end product and what you're looking for. Then you're looking at all the different components and what the strengths are in each of those. That's how you start to compile your blend."

One sip of Clydesdale and it's pretty clear a lot of thought and finesse went into selecting the blend. Clydesdale has a wonderful mouthfeel; it's very silky and not too robust. It has a good representation of the core flavors of black fruit, which is key to a successful syrah. It's an incredibly flavorful wine as well and very easy to savor over a long meal or evening out.

Bryden said it stands out from their other wines in some special ways.

"I think the tannin profile is a little softer," she said. "We aged it a month longer than some of our reserves, and there is just a nice viscosity to the wine."
So as they say, que syrah syrah, whatever wine will be, will be (OK, I know, absolutely no one says this). Whether you're getting back into syrah after a trial separation or if you're an aficionado looking to boost your collection, Clydesdale is a horse of a different color. I promise to never make puns again.

By Rebecca Rose
Santa Ynez Valley Winemaker Kristin Bryden Represents in New York City
Zaca Mesa winemaker Kristin Bryden has flown 2,914 miles east, temporarily swapping the greener, undulating valleys of Santa Barbara County for the bustling streets of New York City, to prove that women really do rule.
In celebration of International Women's Day, Bryden will represent the Santa Barbara Rhône Rangers Chapter at the "Women Chefs Rule: Immigration of Flavor" dinner event in New York City. The by-invite-only event, presented by Women Chefs and Restaurateurs (WCR), a nonprofit organization dedicated to advancing women across the culinary industry, takes place at the prestigious James Beard House on Friday, March 8 at 7 p.m.
Not seeming jet-lagged, an exuberant Bryden said, "It's my first trip to New York City. I love it. It's pretty cold here, but it's pretty great. There's even a little snow on the ground."
Though it is a quick turn-around trip -- she'll be back at her winemaking post at Zaca Mesa by the weekend -- she said that the "electricity" for which New York City is known, has already pulled at her sense of adventure.
"It's very fast-paced here -- and there are tons of restaurants to choose from," said the winemaker, who will join four other women winemakers at the dinner, each of them a Rhône Rangers member.
Bryden noted that although the trip is short, she was able to make it to the American Museum of Natural History.
"I don't have much time for anything else, so I guess I'm going to have to come back," Bryden added.
On Friday afternoon she reports to the James Beard House for set-up and group pictures with her culinary and viticulture comrades before the 7 p.m. gala, where the $170-$220 tickets promise an extensive hors d'oeuvre menu, a five-course meal with wine pairing, dessert, and a chance to visit with the honorary women chefs and winemakers.
"We'll have an opportunity to walk around and talk," Bryden said. "Hopefully I'll have a chance to speak with everyone at each of the different tables. I'd like to explain to them the significance of the Santa Barbara County wine region."
Getting There
Bryden began as a student of food science at Cal Poly San Luis Obispo, where she says winemaking was never really the plan. But eventually her path morphed into a career in wine.
In 2006 at Wild Horse Winery & Vineyards in Templeton, she started out as a production technician, moved up to enologist, and eventually became assistant winemaker. This opened up an opportunity as an associate winemaker with Monterey County's Lockwood Vineyard in 2007, where her overseeing of winery operations was developed.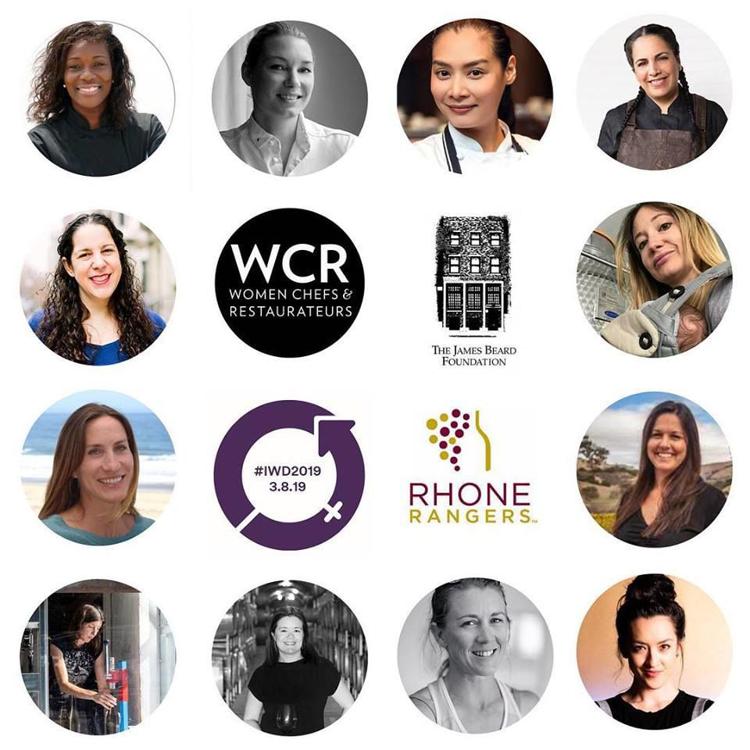 In 2011 she joined Santa Ynez Valley Zaca Mesa Winery and Vineyards, producers of Rhône-style wines since 1978, and quickly moved through the ranks from associate winemaker in 2012, to full-blown winemaker by 2016, and became a Rhône Ranger on behalf of Zaca Mesa.
Bryden says it's here that her advocacy for the Santa Barbara Rhône movement grew, while collaborating with other local winemakers who promote the use of grape varieties from the Rhône Valley.
She further explained that having been invited by the Rhône Rangers to represent the Santa Barbara Chapter in New York, was a great honor. "I couldn't be more thrilled to represent our wines and our Santa Barbara region, and sharing in that pioneering spirit with my fellow female wine and food professionals," Bryden said.
Celebrating women
Her years of fervent dedication to not just any grape, led her to the Women Chefs and Restaurateurs' dinner table.
"As a female winemaker, it's an absolute honor to be participating in an event that promotes and celebrates women across the food and wine industries," Bryden said.
The women with whom she is sharing the James Beard House dinning room, represent an array of culture and flavor. The multicultural menu by female chefs and women winemakers of the Rhone Rangers, traverses the culinary world.
Featured chefs from Israel, Ghana, Sweden, Mexico and Thailand, noted on the Women Chefs & Restaurateurs website, "are renowned first-generation immigrant chefs who, through their culture and cuisine, represent four continents and a truly global palate."
Three other winemakers who will share the stage with Santa Barbara County's Bryden, are from Napa, Santa Cruz and Virginia.
Bryden said a case of Zaca Mesa's 2014 Roussanne was shipped well before her arrival, and she is ready to impress.
"It's such a great celebration. I am really honored to participate in this event and represent Zaca Mesa," she said.
The James Beard Foundation's mission is to celebrate, nurture and honor chefs and other leaders making America's food culture more delicious and diverse. As part of this mission, the JBF offers a variety of events designed to educate, inspire, entertain and foster an appreciation of American cuisine. For more information, visit https://www.jamesbeard.org
Women Chefs and Restaurateurs advances women across the culinary industry through education, promotion, connection and inspiration. For more information, visit https://womenchefs.org


Lisa André covers Valley Life for Santa Ynez Valley News.
New Release: 2016 Inceptive
In the spirit of a new season, we're pleased to share our newest wine with you: our 2016 Inceptive.
"Inceptive" is a word derived from Latin signifying the beginning of something new. In 2016, Zaca Mesa added two large Nico Velo concrete tanks to our aging regime, adding a new dimension in our commitment to produce distinctive Rhône varietal wines from our estate vineyard. From this comes our 2016 Inceptive.

Inceptive uses classic contemporary techniques in the cellar, including a distinct blend of concrete and neutral oak aging, showcasing intense purity of fruit with elegant balance. It breaks our mold yet remains true to the historical vineyard that makes our wines so special. Only 931 cases were produced of this limited-production Rhône-style blend of Syrah, Mourvèdre, and Grenache.
We believe that Inceptive will be a signature wine of the estate and are excited to share our commitment to push the boundaries at Zaca Mesa. It received a 93 point rating from
Wine Enthusiast Magazine
.
To order visit the Tasting Room or give us a call at 805.688.9339 x314.
Tasting notes:
The 2016 Inceptive is a vibrant wine, showing aromas of vine picked blackberries, crushed rock, and graphite. Round silky tannins cascade along your palate, releasing concentrated flavors of mixed black fruits and violet. The long mineral finish has an energy and focus that can only be described as electric.
Composition:
65% Syrah, 19% Mourvèdre, 16% Grenache
New 2018 Jeb Dunnuck Reviews
The Jeb Dunnuck 2018 Reviews are in. Here are our latest critically acclaimed wines:
2016 Pinot Noir - 90 points

"Spice, underbrush, some marine-like notions, and subtle strawberry and cherry fruit emerge from the 2016 Pinot Noir. It's lightly textured, graceful, and beautifully balanced, with no hard edges. Brought up in 28% new French oak, it's an outstanding effort and will drink nicely for at least 4-6 years."
2015 Eight Barrel Syrah - 91 points

"The 2015 Syrah Eight Barrel saw slightly less time in the barrel but was aged in more new oak (33%). It has pure notes of blackberries, blueberries, spring flowers, and pepper herbs, medium to full body, terrific purity, and a seamless texture. It's one of the standouts in the lineup."
2015 Estrella Syrah - 90 points

"The 2015 Syah Estrella offers more purity and elegance, with notes of black raspberries, crushed violets, graphite, and hints of vanilla oak. Supple, seamless and medium-bodied on the palate, drink it over the coming 4-6 years."