The No-Nino
It was hard to ignore the hype machine leading up to the winter of 2015/16. I know we bought into it big time, but as we found out, no two El Nino's are alike and our rain hopes were in vein. The central coast seemed to be the dividing line between the rain haves and the have nots, with vineyards up in Monterey experiencing much healthier rainfall totals than either San Luis Obispo and Santa Barbara Counties. Our historic yearly rainfall average at Zaca Mesa is around 16 inches and as of April 1st we are sitting at 14 total. So, while we still have time to bump that total up a little further, it was far from the aquifer filling deluge that we were anticipating and hoping for.
How does this influence the 2016 harvest?
Having "average-ish" rainfall is not something we complain about in California anymore, and while it wasn't a drought buster year, the rain we have received will greatly help to leach through some of the salts that had accumulated in our soils over the past 4-5 years of historic drought. That in itself is very positive and should lead to healthier vines and more normal grape chemistries at harvest time.
The vine are awake!
The sub-plot to the drought over the last few vintages was the persistence and intense heat we experienced. A build-up of warm water in the eastern and central Pacific Ocean nicknamed "The Blob" made sure our typical foggy coastal conditions were minimized, leading to some of the earliest bud-breaks and earliest harvests on record. Unfortunately, we are still feeling the lingering effects of The Blob - As a local surfer I can attest to warmer than average water temps. While January was cool and close to our average (60 degrees F), February saw the Deja-Vu return of the winter warmth. Zaca Mesa Vineyard averaged over 73 degrees for our daytime high, sending signals to the vines to wake up a few weeks early. Viognier was the first to show in mid-February, quickly followed by Syrah, Roussanne, Grenache Blanc, Grenache in March and just recently Mourvedre. While not as early as last year, it is eerily similar and we already seen a touch of frost damage in our Grenache Blanc.
At this point all we can hope for is that Mother Nature will be kind and bless us with a bit more rainfall in April and then shut things down for a quiet fruit-set in May and early-June.
Cheers,
Dane Campbell
Zaca Mesa Brand Ambassador and Certified Sommelier
Captivating Wine to Ramp Up Pizza Night
Who doesn't love pizza night? Whether you've purchased one that's frozen, a few are being delivered from your favorite pizza joint, or you're channeling Nonno by crafting your own, everyone craves a piping hot pizza pie oozing with gooey cheese, sauce, and toppings. Sometimes, though, pizza night can be a little, well, ho-hum.
Do you always have the same style of that iconic pie? Is the vegetarian pizza your usual choice? Is your husband never swaying from The Meat Lover's Special? If you're nodding your head "yes" (and I understand), there is a solution. Simply find a bottle of wine that is unique, with a "wow" factor totally unlike your usual "just fine" choice. It's time to discover a new favorite pairing.
Fortunately, I've tasted some incredible wines lately,
all sent as samples
, that will up your pizza night game in a big way. A few may be a tad above your most comfortable price point, but each is so delicious and memorable that you'll sit back and say "grazie" after each sip – don't let the price intimidate you. Believe me, pizza night will never be the same. You're welcome.
Zaca Mesa Viognier 2014
– If you've never tried Viognier with pizza, you must. Melon and white flowers on the nose of the Zaca Mesa were subtle, smooth, and an enticing introduction to what was in the glass. Creamy flavors of pear, green grass, just-picked herbs, and spice led to a long finish replete with minerality. So delicious with my pizza loaded with squash, black olives, broccolini, mushrooms, and plenty of cheese, I'll be finding another bottle of this well priced wine from Santa Barbara County. Cost is $17.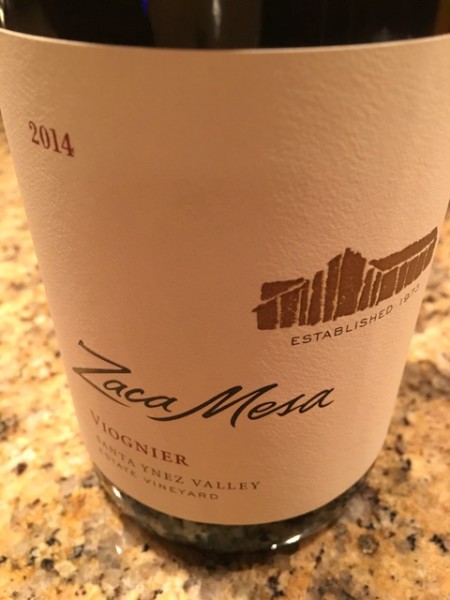 Rynning, Cindy "7 Captivating Wines to Ramp Up Pizza Night" Blog Post, http://www.grape-experiences.com/2016/04/7-captivating-wines-ramp-pizza-night/, Grape Experiences, 13th April, 2016
Zaca Mesa's Modern Movements
It's the morning after a welcome rainstorm in early January, and through the rows of Zaca Mesa Winery's spindly winter vines, we can see the top of Figueroa Mountain, dusted with snow. As a nearby chainsaw attacks an ancient oak branch that toppled the night before, winemaker Eric Mohseni, associate winemaker Kristin Bryden, brand ambassador Dane Campbell, and I are bracing against the cold as we talk about viognier, roussanne, grenache, syrah, and other grape varietals originally from France's Rhône Valley that do so well on the property.
The Mesa vineyard blocks, where we're standing, are around 1,500 feet in elevation, much higher than most vineyards in Santa Barbara County, and the entire 750-acre property — including the Cushman, Mariposa, Chapel, and Foxen blocks down canyon — straddles the confluence of the Los Alamos, Santa Maria River, and Santa Ynez River valleys, so fog and coolness come from three directions. "In cool years, it's much cooler here," said Mohseni, who's been with the brand since 2001 and took over as head winemaker in 2008. "And in warm years, it's much warmer." Explained Campbell, "That's why the Rhônes work here. They can swing between the extremes."
For Santa Barbara wine country, Zaca Mesa is hallowed ground. Founded in 1973 by a group of investors, it became the county's first place to grow the now-ubiquitous grape syrah when the Black Bear Block was planted in 1978. Its cellars, nicknamed "Zaca U," have also been a training ground for the region's most influential and celebrated vintners: Ken Brown, Jim Clendenen, Adam Tolmach, Bob Lindquist, Lane Tanner, Daniel Gehrs, Chuck Carlson, and Benjamin Silver, to name a few. And it's still owned by one of the original investors, commercial real estate magnate John Cushman, although he put the property on the market last fall for $32 million and patiently awaits a buyer who will continue to respect and elevate the brand.
Not that Zaca Mesa always engendered the respect it has today. Fifteen years ago, when Mohseni joined, the winery was emerging from what he called "the dark years." A Long Beach State grad who worked in wine retail before going into production, Mohseni admitted, "They were some pretty neglected wines." Since 2001, he's been hard at work replanting vineyards with different grapes, clones, and rootstocks; grafting over old chardonnay vines to syrah and other Rhônes, such as mourvèdre and grenache blanc; and studying the results. "We want to create diversity," he said. "But not only clonal, because learning rootstock is incredibly important."
So is consistency in the cellar, where Mohseni is proud to rely on the same harvest crew that's worked there for years, including Ruben Camacho, who started at Zaca Mesa in 1977. From the property's 150 planted acres — 83 acres sit fallow now as a result of strategic winnowing — they make about 35,000 cases of wine a year; the handful of different syrah bottlings lead the pack in production amounts, viognier is most popular on the white wine front, and there's also other single-grape bottlings and red-and-white blends like the Z Cuvee and Z Blanc. Mohseni does sell some grapes to other winemakers, which is a good marketing tool for the brand and a way to keep in touch with the market. "I get more phone calls about grenache than anything — it's very hot these days," he said. "It can make both a rosé and a port. There's not a lot of grapes that can do that."
Experimentation thrives in the winery, much of it prompted by the property's 40-year anniversary in 2013. That includes the Homage series; unlike everything else bottled by Zaca Mesa, which is all-estate and all-Rhône, the Homage pays tribute to grapes once processed by the winery, including pinot noir, chardonnay, pinot blanc, sauvignon blanc, and cabernet sauvignon. Designated as single-vineyard bottlings (Bien Nacido for the pinots and chard; Vogelzang and TTT for the cab; McGinley for the sauv blanc), these excellent, tasting-room-only wines are made by Bryden, who joined the brand in 2011 and is excited about exploring new grapes. "It makes you a better winemaker," she said.
There's also racy grenache blanc aging in concrete tanks, a magnum-only 2013 syrah-cabernet blend to honor a similar 1983 bottling, and talk of planting rare grapes like picpoul blanc and grenache gris. Then, in the category of Old School as Cutting Edge, there's syrah that's been fermented and is aging in clay amphora. "It's a way to capture the fruit as purely as we could," said Bryden of the benefits of clay amphora, which is increasingly popular across the Central Coast. Unlike Zaca Mesa's usual practices of holding syrahs for a few years until release — the current red offerings are mostly 2012s — the 2014 amphora syrah hits the market this month. Expect floral, fruity freshness over bold, brooding savoriness.
As for the historic Black Bear Block, Mohseni is sad to say that those three and a half acres of 35-year-old, own-rooted syrah grapes are "starting to peter out." Even if he must replant someday soon, Mohseni will keep some vines alive, as they may qualify as their own "Zaca Clone" of syrah, according to experts at UC Davis. While he's spent most of his 15 years at Zaca Mesa working on the future, Mohseni remains most concerned about protecting its past. "I want to keep it," he said of the block, which is only producing a lowly half ton an acre now. "So I'm trying to preserve the cuttings."
Check out Matt Kettman's article in the Santa Barbara Independent here.
A memorable wine of the past, delicious in the present
I don't pretend to have an exceptional wine palate, but I do have decent palate memory. I can remember, sometimes vividly, the taste of wines I drank years, if not decades ago. Long before I started taking notes.
Now, this can be an insufferable trait if you use it to constantly wax pretentious about some trophy bottle you drank in the '90s.
But my palate memory has come in handy in this job. It's at its strongest when I taste something for the first time — whether a new varietal, region or style — and it's exceptional. That becomes my baseline reference point, and I build on it from there.
That's why when I think back on my first real restaurant job (after years of waitressing at diners, where balancing multiple coffee cups in one hand was a more important skill than knowing the difference between aPouilly-Fuissé and Pouilley-Fumé), I can still taste my first quality Bordeaux blend or California syrah.
That job was in Manhattan's SoHo neighborhood at a stylish, modern American bistro, in the early 1980s. The wine list was, like my wine knowledge, quite limited but forward thinking. There was one cru Beaujolais, one Champagne, one French chardonnay, one Sonoma zinfandel, etc. And it was the first time I had tasted any of them.
Think back to that time — the Judgment of Paris competition that put Napa on the map had only happened in 1976. Who was drinking wine from Sonoma or Santa Barbara back then, especially on the East Coast? For me, the discovery of a vast wine world out there made a light bulb go off, and I've been partial to those specific producers ever since.
Like Zaca Mesa, from Santa Ynez Valley. Over the years, nearly every time I've been to that area, I've visited that winery, a pioneer in producing Rhône varietals since 1973. In fact, they were only the third winery in Santa Barbara County and the first to plant syrah there. It is still family owned, and its grapes are grown on 150 acres of estate vineyards.
Zaca Mesa's 2014 viognier is representative of a producer that's focused and confident in what it does. The typical floral aromatics of the grape are graceful, not overpowering. Bright lemon and peach flavors are softened by a creaminess in the mouth. It's a polished wine, without feeling slick.
With winter seemingly making an early exit, the shift to lighter dishes will soon follow. Viognier pairs well with a variety of fish and seafood dishes, pasta in white sauce (but not overly cheesy), sushi, spring rolls, rotisserie chicken salad and grilled vegetables.
Don't over-chill the bottle or the subtlety of this wine will be lost. And that wouldn't be very memorable.
Buy it here: About $18. Bristol Farms, La Jolla, (858) 558-4180, bristolfarms.com; Bine and Vine, Normal Heights, (619) 795-2463, bineandvine.com; North County Wine Company, San Marcos, (760) 653-9032,northcountywinecompany.com; Whole Foods, La Jolla, (858) 642-6700, wholefoodsmarket.com.
michele.parente@sduniontribune.com
Eric & Kristin's Promotion
Effective January 1, 2016, Eric Mohseni was promoted from Winemaker to Director of Vineyard and Winery Operations and Kristin Bryden was promoted from Associate Winemaker to Winemaker. Eric spearheaded Zaca Mesa fruit sales over the last three years to the point where the farming operation and winery operation need attention from a Director's perspective to get the best quality production from the vineyard. Eric's background as enologist, assistant winemaker, and winemaker at Zaca Mesa will help the Zaca Mesa vineyard produce the best fruit not only for Zaca Mesa, but also for the producers who buy Zaca Mesa fruit. As more fruit sales are contracted, Zaca Mesa fruit will become more and more in demand by quality wine producers.
By proving her wine-making talent with the Homage series, Kristin's promotion into this role is a fitting and natural step in her development as well as the strategic direction of Zaca Mesa. There is no doubt that Kristin not only earned this promotion, but she will soon be making a mark in the wine industry that will reach well beyond Santa Barbara County. Through hiring and developing Kristin Bryden's talent, Eric Mohseni has followed the tradition of Zaca Mesa's first winemaker, Ken Brown, bringing in the likes of Jim Clendenen and Bob Lindquist. The difference here is Zaca Mesa will be able to keep this talent in house by allowing both Eric and Kristin to continue their professional career development as well as contributing to the future strategic success of Zaca Mesa.
One other comment I would like to add I must say these are well-earned and deserved promotions. Congratulations to Eric and Kristin!
Sincerely
Paul R Pease
General Manager